The Repository is the central storage location of all saved Ad Hoc Views, Reports and Dashboards created for your Community BI system.
These items can be shared with any users of the system.
Instructions
Reports
Step 1. Select a Report from your list

Notice the available options at the top of the page
Run – runs the selected Report
Edit – opens the Report set up page
Copy – takes a copy of the selected Report
Cut – cuts the Report from the current location
Paste – pastes the currently copied or cut Report into the current folder

Note – if you paste a Report into a folder containing another Report with the same name, the pasted Report will have a number added to the name.
Step 2. Right Click on the Report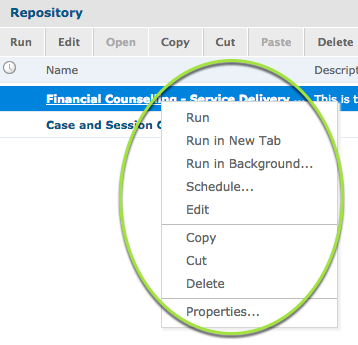 Notice the available options returned:
Run – Runs the selected Report
Run in New Tab – runs the Report in another browser tab
Run in Background…-runs the Report in the background
Schedule… – displays the Schedule page for this Report
Edit – opens the Report Set up page
Copy – takes a copy of the selected Ad Hoc View
Cut – cuts the Ad Hoc View from the current location
Delete – deletes the Ad Hoc View from the repository
Properties … – Displays the properties of the Selected Ad Hoc View
Further Information
For further information on the Repository, refer to the following articles: