If you have created an Ad Hoc View and find the save and export buttons are greyed out when you try to save, you need to review the design of your Ad Hoc View.

If you have created a Crosstab or Chart Ad Hoc View without selecting any measures, you will not be able to save the view.
Try adding a measure, or changing to a table view. If you change to a table, you may need to move the fields between rows and columns
Add a measure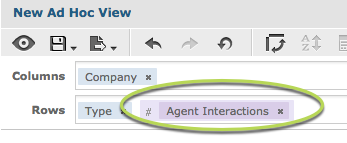 Change to table view

The editor will not allow you to save Crosstabs and Charts without a measure as they are not meaningful.