The Community BI System is a Business Intelligence system which allows you to interrogate your data to create charts, tables, reports and dashboards.
CDS can configure Community BI to connect to your CDS CRM system, or to other data sources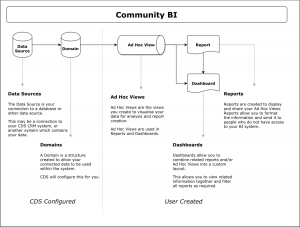 Community BI allows you to create views, reports and dashboards from your organisation's data.
Reports can be scheduled and automatically distributed to stakeholders and staff as required.
Beginning in 2019, a number of standard Community BI Reports will be made available to the majority of CDS Databases.
These reports will be available from within the database and direct access to Community BI is not required.
If you wish to create your own reports you will still need direct access to Community BI.
Further Information
For further information on the Community BI system, refer to the following articles: